High Mast Pole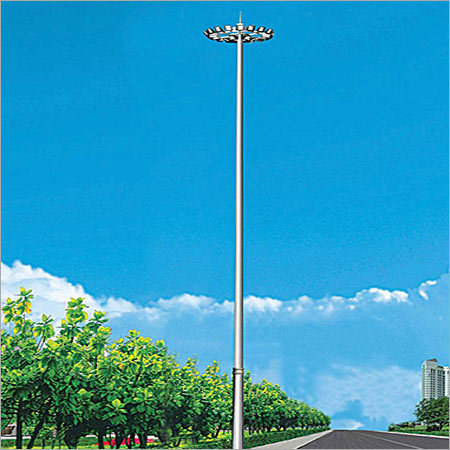 High Mast Pole
Product Description
High Mast Pole offered by us is completely suitable to be installed in stadiums, highways, large commercial & residential societies, and gardens. It is made of superior quality metal alloy with a corrosion-resistant surface coating. This pole gives the flexibility of installation of a large number of searchlights for illuminating the wide area with excellent visibility. It can easily bear harsh weather conditions without any structural wear or deformation. High Mast Pole can be availed in customized configurations at highly competitive prices for our respected customers in quantities as per their request.

We are a noteworthy Manufacturer, Supplier and Exporter of extensively applauded High Mast Pole. It is widely preferred over conventional lighting, owing to its large space to height ratios. This pole can illuminate large areas without the need for numerous lighting columns.
Key features of High Mast Pole:
Fixed Type Head Frame:
This is designed with larger Dia.
It has a non-corrosive aluminum pulley system, which provides longer life and perfect balancing.
Winches:
Winch designed with gear ration 53:1 and without break of clutches.
These are self-lubricated for sustained trouble free life.
High Mast Finish:
The complete mast with component is fully hot dip galvanized for longer life.
Specification :
Nominal height of mast (mtrs.)

12 MTR

12.5 MTR

16 MTR

16 MTR

20 MTR

25 MTR

30 MTR

1. High mast Structure

Material of construction

IS 5986 Fe 510 or equivalent

IS 5986 Fe 510 or equivalent

IS 5986 Fe 510 or equivalent

IS 5986 Fe 510 or equivalent

IS 5986 Fe 510 or equivalent

IS 5986 Fe 510 or equivalent

IS 5986 Fe 510 or equivalent

Nominal Thickness

Single Section-3 MM

Base Section-4mm
Top Section-3mm

Base Section-4mm Top Section-3mm

Base Section-4mm Top Section-3mm

Base Section-4mm Top Section-3mm

Base Section-4mm
Middle Section -4mm
Top Section-3mm

Base Section-4mm
Middle Section -4mm
Top Section-3mm

Cross section of mast

12 sided polygon

12 sided polygon

20 sided polygon

20 sided polygon

20 sided polygon

20 sided polygon

20 sided polygon

Length of individual sections (approx)

Single Section 12 Mtr

Base Section - 6.5 mtrs Top Section- 6.5 mtrs

Base Section - 8.375 mtrs
Top Section-8.375 mtrs

Base Section -8.375 mtr
Top Section- 8.375 mtrs

Base Section-10.375 mtrs
Top Section-10.375 mtrs

Base Section- 8.75mtrs
Middle Section-8.75 mtrs
Top Section-8.75 mtrs.

Base Section -10.50 mtrs
Middle Section-10.50mtrs
Top Section-10.50mtrs.

Note: No circumferential weld is allowed and only one longitudinal weld is allowed.

Base and top

Base Dia-340mm

Base Dia-350mm

Base Dia-350mm

Base Dia-460mm

Base Dia-460mm

Base Dia-485mm

Base Dia-600 mm

Diameter (Approx.)

Top Dia-100 mm

Top Dia-150 mm

Top Dia-150 mm

Top Dia-150 mm

Top Dia-150 mm

Top Dia-150 mm

Top Dia-150 mm

Type of joints

Telescopic stress fit

Telescopic stress fit

Telescopic stress fit

Telescopic stress fit

Telescopic stress fit

Telescopic stress fit

Telescopic stress fit

Nominal length of overlap

Nil

Top & Bottom - 650 mm

Top & Bottom - 650 mm

Top & Bottom - 650 mm

Top & Bottom - 700 mm

Top & middle - 700mm.
Middle & Bottom 800 mm

Top & middle - 700mm.
Middle & Bottom 850 mm

Size of base

Diameter- 540mm

Diameter- 560mm

Diameter- 560mm

Diameter-670mm

Diameter -670mm

Diameter -730mm

Diameter-840mm

Flange diameter and thickness (approx)

Thickness - 25mm

Thickness - 25mm

Thickness - 25mm

Thickness - 25mm

Thickness - 30mm

Thickness - 30mm

Thickness -32mm

Metal protection treatment of mast sections.

Hot dip galvanized.

Hot dip galvanized.

Hot dip galvanized.

Hot dip galvanized.

Hot dip galvanized as per

Hot dip galvanized as per

Hot dip galvanized as per

Type of door construction and locking arrangement

Close fitting door with Allen key locking and suitable reinforcement to avoid buckling.

Close fitting door with Allen key locking and suitable reinforcement to avoid buckling.

Close fitting door with Allen key locking and suitable reinforcement to avoid buckling.

Close fitting door with Allen key locking and suitable reinforcement to avoid buckling.

Close fitting door with Allen key locking and suitable reinforcement to avoid buckling.

Close fitting door with Allen key locking and suitable reinforcement to avoid buckling.

Close fitting door with Allen key locking and suitable reinforcement to avoid buckling.

Size of anchor plate and its thickness

530mm x 530mm Thickness - 6 mm

550mm x 550mm
Thickness - 6 mm

550mm x 550mm
Thickness - 6 mm

750mm x 750mm
Thickness - 6 mm

750mm x 750mm
Thickness - 6 mm

750mm x 750mm
Thickness - 6 mm

840mm x 840mm
Thickness - 6 mm

Details of template

P.C.D.-460 mm

P.C.D.-460 mm

P.C.D.-460 mm

P.C.D.-650 mm

P.C.D.-650 mm

P.C.D.-660 mm

P.C.D.-740 mm

No. of foundation bolts

6 Nos. of M 25

8 Nos. of M 25

8 Nos. of M 30

8 Nos. of M 30

12 Nos. of M 30

16 Nos. of M 30

16 Nos. of M 30

2. Dynamic Loading

Max. design wind speed

180 km/hr.

180 km/hr.

180 km/hr.

180 km/hr.

180 km/hr.

180 km/hr.

180 km/hr.

Gust time considered

3 sec

3 sec

3 sec

3 sec

3 sec

3 sec

3 sec

Height above ground level at which wind velocity is measured.

10 mtrs.

10 mtrs.

10 mtrs.

10 mtrs.

10 mtrs.

10 mtrs.

10 mtrs.

Factor of safety for wind load

1.25

1.25

1.25

1.25

1.25

1.25

1.25

Factor of safety for other loads

1.15

1.15

1.15

1.15

1.15

1.15

1.15

3. Lantern Carriage

Material of construction

M.S. (Hot dip galvanised).

M.S. (Hot dip galvanised).

M.S. (Hot dip galvanised).

M.S. (Hot dip galvanised).

M.S. (Hot dip galvanised).

M.S. (Hot dip galvanised).

M.S. (Hot dip galvanised).

Diameter of carriage ring (mm)Including arms.

2400 mm (approx)

2400 mm (approx)

2400 mm (approx)

2400 mm (approx)

2400 mm (approx)

2400 mm (approx)

2400 mm (approx)

Number of sections

2 Sections.

2 Sections.

2 Sections.

2 Sections.

2 Sections.

3 Sections.

3 Sections.

Load carrying capacity

Approx. 500 kgs.

Approx. 500 kgs.

Approx. 500 kgs.

Approx. 500 kgs.

Approx. 750 kgs.

Approx. 750 kgs.

Approx. 750 kgs.

Total weight of assembly with fittings.

Approx 350 kgs.

Approx 350 kgs.

Approx 350 kgs.

Approx 350 kgs.

Approx. 500 kgs.

Approx. 500 kgs.

Approx. 500 kgs.

Number of luminaires

4 to 6 nos

6 to 9 nos

6 to 9 nos

6 to 9 nos

9 to 12 nos

9 to 12 nos

9 to 12 nos

4. Winch

TYPE

Single Drum

Double Drum

Double Drum

Double Drum

Double Drum

Double Drum

Double Drum

Capacity

550 Kgs

750 Kgs

750 Kgs

750 Kgs

1500 Kgs

1500 Kgs

1500 Kgs

Safe Working Load

375 Kgs

375 Kgs

375 Kgs

375 Kgs

750 Kgs

750 Kgs

750 Kgs

Method of operation

Manual /Electrical

Manual /Electrical

Manual /Electrical

Manual /Electrical

Manual /Electrical

Manual /Electrical

Manual /Electrical

Gear ratio

.53:1

.53:1

.53:1

.53:1

.53:1

.53:1

.53:1

Gear material

Phosphor Bronze

Phosphor Bronze

Phosphor Bronze

Phosphor Bronze

Phosphor Bronze

Phosphor Bronze

Phosphor Bronze

Tested load per drum

750 Kgs.

750 Kgs.

750 Kgs.

750 Kgs.

750 Kgs.

750 Kgs.

750 Kgs.

5. Stainless Steel Wire Ropes

Wire Rope

Stainless Steel AISI 316

Stainless Steel AISI 316

Stainless Steel AISI 316

Stainless Steel AISI 316

Stainless Steel

Stainless Steel

Stainless Steel

Number of ropes

1 for winch

2 for winch

2 for winch

2 for winch

2 for winch

2 for winch

2 for winch

Diameter (mm)

5 mm

6 mm

6 mm

6 mm

6 mm

6 mm

6 mm

Factor of safety

5 or More

5 or More

5 or More

5 or More

5 or More

5 or More

5 or More

Construction

7/19 With Central core SS.

7/19 With Central core SS.

7/19 With Central core SS.

7/19 With Central core SS.

7/19 With Central core SS.

7/19 With Central core SS.

7/19 With Central core SS.

6. Integral Power Tool

Input supply

415V 50 Hz

415V 50 Hz

415V 50 Hz

415V 50 Hz

415V 50 Hz

415V 50 Hz

415V 50 Hz

Wattage/HP

1.5 HP

2 HP

2 HP

2 HP

2 HP

2 HP

2 HP

Reversible

Yes

Yes

Yes

Yes

Yes

Yes

Yes

Torque Limiter






















Lifting Capacity

500 Kgs.

750 Kgs

750 Kgs

750 Kgs

750 Kgs

750 Kgs

750 Kgs

Type

Mechanical

Mechanical

Mechanical

Mechanical

Mechanical

Mechanical

Mechanical