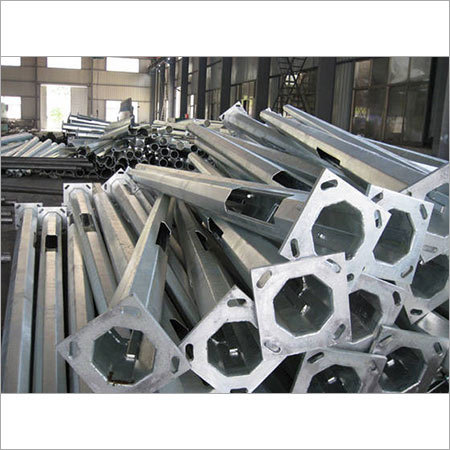 Octagonal Lighting Pole
Product Code : LP 04
Product Description
Octagonal Lighting Pole offered by us is available in a variety of demanded sizes and specifications. Thus, we are extensive applauded as a noted Exporter, Manufacturer and Supplier of the arena.
Other details regarding Octagonal Lighting Pole:
Pole sections:
The Octagonal Pole is in single section (up to 14 meters) without any circumferential weld joint.
Galvanization:
The poles is hot dip galvanized as per the set IS 2629 / IS 2633 / IS 4759 standards with average coating thickness of 70 micron.
The galvanizing is done by single dipping.
Fixing Type:
The Octagonal Pole is bolted on pre-cast foundation with a set of four foundation bolts for greater rigidity.
Top Mountings:
Galvanized mounting bracket are supplied along with the Octagonal Poles for installation of the luminaries.
Manufacturing:
The pole manufacturing and galvanizing units are ISO 9001: 2000 & ISO 14001 certified.
Technical Specification :
| | | | | | | | |
| --- | --- | --- | --- | --- | --- | --- | --- |
| Pole Height (Mtrs.) | 5 Mtrs | 7 Mtrs | 9 Mtrs | 9 Mtrs | 10 mtrs | 11 Mtrs | 12 Mtrs |
| Cat. No. | HM 1105 P | HM 1107 P | HM 1109 PA | HM 1109 PB | HM 1110 P | HM 1111 P | HM 1112 P |
| Material of Construction | BSEN 10025 | BSEN 10025 | BSEN 10025 | BSEN 10025 | BSEN 10025 | BSEN 10025 | BSEN 10025 |
| Metal Protection Treatment | H.D. Galvanised | H.D. Galvanised | H.D. Galvanised | H.D. Galvanised | H.D. Galvanised | H.D. Galvanised | H.D. Galvanised |
| Avg Thickness of Galvanisation | 65 Microns | 65 Microns | 65 Microns | 65 Microns | 65 Microns | 65 Microns | 65 Microns |
| Thickness of Sheet | 3 mm | 3 mm | 3 mm | 3 mm | 3 mm | 3 mm | 3 mm |
| Thickness of Base Plate | 16 mm | 16 mm | 20 mm | 20 mm | 20 mm | 20 mm | 20 mm |
| Bottom Diameter | 135 mm | 150 mm | 150 mm | 200 mm | 200 mm | 200 mm | 240 mm |
| Top Diameter | 65 mm | 75 mm | 75 mm | 100 mm | 100 mm | 100 mm | 110 mm |
| Number of Foundation Bolts | 4 | 4 | 4 | 4 | 4 | 4 | 4 |
| PCD of Foundation Bolt | 210 x 210 mm | 240 x 240 mm | 240 x 240 mm | 310 x 310 mm | 310 x 310 mm | 310 x 310 mm | 310 x 310 mm |
| Bolt Diameter | 16 mm | 16 mm | 20 mm | 20 mm | 20 mm | 20 mm | 25 mm |
Contact Us
6, Prime Point, Dream Valley Society, Singhada Talav, Nashik, Maharashtra, 422001, India
Phone :91-253-2500339